Electric Distribution


The City of Hoisington provides electric power to about 1611 customers, including about 52 customers located outside the City but within the City's Electric Service Territory. The City purchases wholesale power from Western Electric. This power is delivered to Hoisington at 34.5 kilovolts via an interconnection, and stepped down to the City's two distribution voltages: 2,400 V and 7,200 V. The City owns and maintains about 36 miles of distribution lines, mostly overhead lines and some underground lines.
The City's Electric Distribution Department is housed in the City Shop building, located at 160 S. Pine Street. Duties of this department include installing services to new customers, maintaining the existing system, reading meters, and connecting/disconnecting power to customers.

The City is responsible for maintaining primary and secondary electric lines, to and including the meter, except that in the case of overhead service, the customer must provide the roof mast and building conduit to the meter, and the wiring from the meter through the mast. Customer service and billing is conducted at the City Office at 109 E. 1st Street.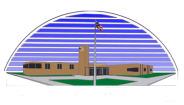 For Electrical Distribution
Information Contact:

Ray Byers

PO Box 418
160 S. Pine
Hoisington, KS 67544
Email
(620)653-4385
**********************
For after hours electrical
assistance call:

(620)653-4675